This guy is just like every other bully in the world. And to top it off he has money so he's allowed to get away with behavior most people find abhorrent.
He ignores rules and laws and generally does whatever he wants free of consequence.
He's a terrible human being.
Some of these links are fairly old since I haven't posted one of these in a long time.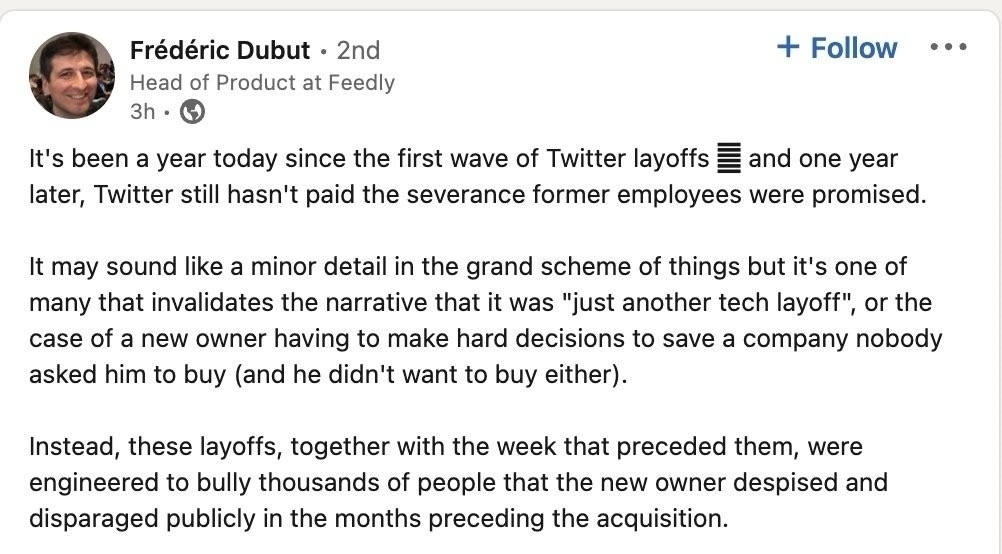 Yoel Roth • The New York Times
Backed by fans on social media, Mr. Trump publicly attacked me. Two years later, following his acquisition of Twitter and after I resigned my role as the company's head of trust and safety, Elon Musk added fuel to the fire. I've lived with armed guards outside my home and have had to upend my family, go into hiding for months and repeatedly move.
"This X shit's got to go," author Stephen King tweeted Thursday. That post received 71,000 likes by the end of the day. Elon Musk, creator of "this X shit," responded to King with a "XX" and a winking-kiss emoji. Musk's reply had a relatively tiny 7,300 likes at time of writing, despite the fact that Musk has 150 million more followers than King.
Elon Musk wants X to be the center of your financial world, handling anything in your life that deals with money. He expects those features to launch by the end of 2024, he told X employees during an all hands call on Thursday, saying that people will be surprised with "just how powerful it is."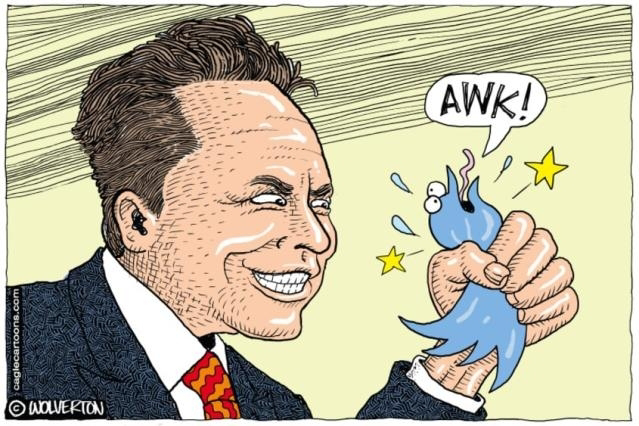 A year ago Elon Musk took over Twitter. Too much has happened in the 365 days that followed to even begin to chronicle it all here, but the short version is that he quickly fired 80% of the staff, broke a bunch of things, paid racists, misogynists, and homophobes to set up shop, picked (sometimes literal) fights with anyone who struck his fancy, lost billions of dollars, and changed the iconic name and logo to the letter X just because.
Zoe Schiffer • platformer.news
On Friday, the National Labor Relations Board issued its first complaint against Elon Musk's X Corp. The board accused X of illegally firing Yao Yue, a widely respected principal engineer at the company, for pushing back on Musk's return-to-office policy, according to a copy of the complaint obtained by Platformer.
Eric Hananoki • mediamatters.org
X's internal reporting system repeatedly responded that posts claiming "Hitler was right" and that there needs to be a "final solution" regarding Jewish people don't violate the platform's "safety policies." This isn't an isolated example: The Center for Countering Digital Hate similarly released a report today finding that X has failed to remove neo-Nazi content on its platform in numerous cases.
CNBC is running an excerpt from the new Walter Isaacson book about Elon that details what happened with the closing of the data center, and it is way, way, way crazier than even I expected. When Musk talked about how he "disconnected one of the more sensitive server racks," he meant that entirely literally, in that he literally unplugged it, involving a series of improbable (and ridiculously dangerous and stupid) decisions that resulted with him under the floorboards in the data center pulling the plug, after multiple people warned him not to.
In July 2023, Mohammed al-Ghamdi, a Saudi Arabian Twitter user who had criticized the Kingdom's corruption and human rights violations via an anonymous account with only 9 followers was sentenced to death.
Elon Musk plans to remove headlines from news articles shared on X
But the drones ran into a problem: Starlink, the satellite-communications system that Ukraine had been using since Russia invaded early last year, unexpectedly wasn't working. This was a surprise to the engineers. Several people, in Ukraine and elsewhere, frantically called and texted Elon Musk, the owner of Starlink, to persuade him to enable the system.
Twitter, the social media platform officially known as X, appears to have deleted all images from the website that were posted between 2011 and 2014. Links that used Twitter's native shortening service are also broken.
An NYU professor with 560,000 followers says he's been locked out of his X account for over 2 weeks after declining to meet with Elon Musk
Casey Newton • platformer.news
Today let's talk about a wild weekend of backtracking at the company formerly known as Twitter — and how it should inform the way we cover Elon Musk and his frequent promises in the future.
Nitish Pahwa and Nitish Pahwa • Slate
An Interview With the Guy Who Was @Music on Twitter Until Elon Musk's X Took the Username Away